About the Artist
Watch Judith Durr's commission video by clicking the link below.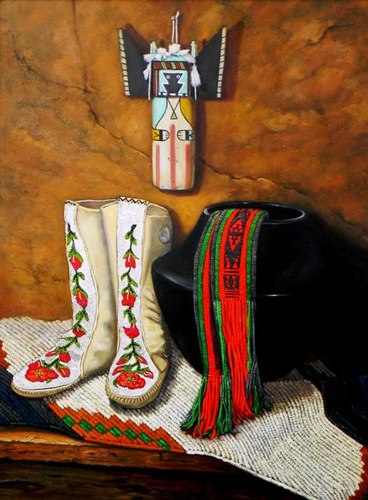 Click this link to watch Judith Durr's latest video for a commissioned painting:
http://www.youtube.com/watch?v=V6bSEECWZZg
Judith accepts commissioned paintings.
Everyone is looking for that special touch, if you have an artifact you would
like to see painted in a commissioned stil life or western life painting,
contact Judith Durr for your personal original commissioned oil painting.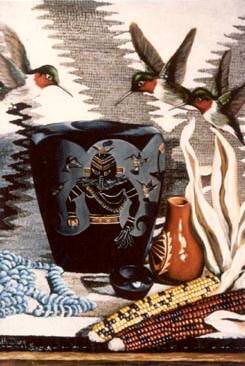 Online Press Release for Judith Durr:
http://www.cisionwire.com/judith-durr
Studio Interview with Judith Durr and DM Productions:
Judith Durr
"My goal is preserving the legacy of the subjects portrayed in my oil paintings. Inspirations and influences of my artwork is due to my proud Native American heritage, Choctaw and Cherokee, and parents who encouraged me as young person to pursue my aspirations and to leave a recognizable legacy."

In capturing the emotions of the viewer, my illusion of realism is accomplished. When people reach out to feel the fabric of the rugs, touch the painted beads in the moccasins, bags, the smoothness of the pottery, the corn or touch the jewlery from my oil paintings I am provided with a great source of satisfaction.

My distinctive style is unique with my use of rugs as a consistent background element in my compositions. This has become my signature or trademark in my oil paintings. I work strictly in oils and layers of a wet on wet technique. There are no shortcuts.
The research, arrangements of the compositions, histories of the artifacts and the incredible artisians are inspiration for the carefully selected subjects in my oil paintings. Growing up on the Navajo reservation as a child, influenced my use of rugs. My fathers interest in art, archeology created a fertile bases for my artwork.

As a collector, I feel a strong responsiblity to my artwork and the maintaining the integrity of the subjects used in my oil paintings. I am fortunate to be able to collect and own the subjects used in my work. Some of these beautiful heirlooms were passed to me through my families collection. Early in my career, I was fortunate to have wonderful treasures loaned to me from other collectors. In painting the still lifes, I paint from life.
I am privilege to live my life's dream. Always the student, the importantance, for me, is to continue to learn and experience the challenge of painting superior oil paintings. It is an honor to have my work recognized internationally and represented by impressive galleries."

Judith Durr, a native of Arizona, resides in the beautiful hill country of Cave Creek, Arizona with her husband, Roger Kull a fine art leather artist. Cave Creek is located north of Scottsdale and Phoenix, Arizona. If you would like to visit Judith's studio/gallery, please call for an appointment.
Judith is dedicated to realism in her exquisite oil paintings and her spectacular style speaks for itself. Her heritage is Choctaw and Cherokee and living on the Navajo reservation, her love of history and archeology, is the inspiration for her oil paintings. Her genre includes First People's still lifes, western life, landscapes and historical research.

Judith lectured at Northen Arizona University, in the early 1990's, for studies in Southwestern life and art. These lectures were designed for foreign exchange students and elder hostels programs at N.A.U. She also designed an interactive watercolor program for children, "Color and Stuff". Since 2003 Judith lectures for the West Valley Fine Arts Council, Litchfield Park, Arizona on "Painting, Inspiration and the Native American Spirit". Judith began working in 2007 with Pueblo Grande Museum Auxilary on the Indian Market Advisory Committee. The United States Environmental Protection Agency, chose Judith's, "Mora Tradition" as the 2007 American Indian Heritage poster and program cover.
Western Art Collector recognized Judith's talent in the May, 2008 edition of their prestigous magazine and Galerie Esteban in Santa Fe, New Mexico represented her work for a one woman showing in June, 2008.
Judith studied fine art at the Scottsdale Artist School with Jim Daly for three years in figure studies.
Judith has been a dynamic commission artist since 1979. Her commissions include many private collectors throughout the United States and Europe. Included in her list of commissions, the opportunity to work with Dr. Phil Weigand, field archeologist with the Northern Arizona Museum, in Flagstaff. Judith traveled to Teuchitlan and completed a four-foot by five-foot oil painting recreation of the Guachimonton complex near Teuchitlan, Jalisco, Mexico. The oil painting is in the Museum of History and Anthropology in Mexico City. This painting was donated for the state of Jalisco by Dr. Weigand.

She is listed on the offical Choctaw Nation Artist Registry, Western Artists of America, Sonoran Art League and a signature member of Southwestern Premier Artists.

Among the numerous articles and advertising for Judith Durr are the Western Art Collector, Arizona Collector's Guide, Southwest Art, Art of the West, Art Talk, Arizona Republic, Phoenix Home and Garden.
___________________________________________
GALLERY REPRESENTATION:
THE RANCH, Cave Creek, Arizona 480-595-2443, by appointment only. MOUNTAIN STUDIO, Inc.
_______________________________________________